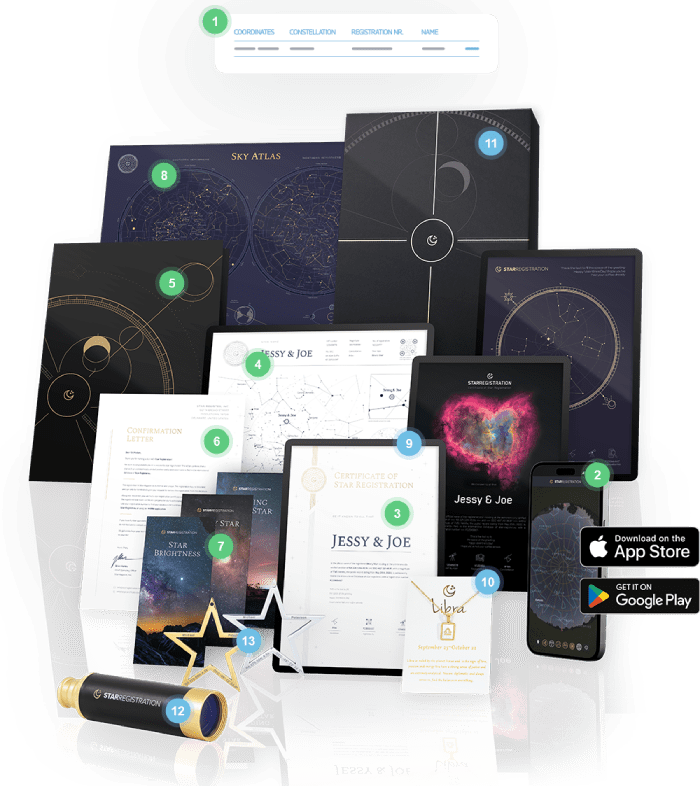 Included in all packages
Optional
In the star gift package you will receive:
1Registration in Star Register - an entry in the online star catalog.
2Mobile App - A software that will help you to find your star.
3Star Certificate - provides the name of the star, your personal message, and official details from the Celestial Name Database.
4Star Map/Star chart - shows the exact location and coordinates of your star.
5Star Folder - covers your gift in the atmosphere of the space.
6Confirmation Letter - A welcome letter from the registry.
7Info Brochures - Further tips and tricks.
8Sky Atlas - A Poster displaying all the star constellations.
9Frame - make your gift even more special with a matte black frame.
10Constellation pendant - add gold pleated zodiac necklace in the recipient's zodiac sign.
11Premium Gift Box - A unique way to cover certificate in photo frame.
Important! Take into consideration the location of the recipient. It is sufficient to get a standard or a bright star if the recipient of a gift will be observing the star in the night sky in a place without a lot of illumination. If the recipient will be watching the star from an area with a lot of lightning around, it's better to pick a very bright star.
Reviews from our customers
Frequently asked questions
You can't legally buy a star because nobody owns them. We offer you a gift service to buy a star without absolute, physical rights on these celestial bodies. Previously mentioned means you would have a star, but you do not own it in legal terms.
It depends if you are giving this star to yourself or someone else. You need to think about the person you are giving the star to and name it after you or them or something important to you or them.
It's one of the best ways how to show someone how much you love them. It's a special, meaningful, and unique gift that will stay with the receiver forever.

Still have questions? Contact us!